We proudly carry woodwind accessories by quality manufacturers
On hand we have
Barrels by BMS, Backun Musical Services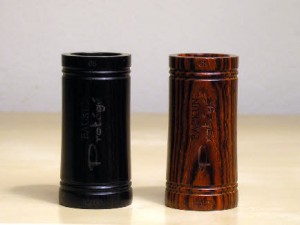 Protégé in cocobolo or grenadilla. Very suitable for any beginning or intermediate clarinet regardless of brand. It centers sound and improves intonation due to its professional style tapered bore. This barrel is less resistant and helps developing airstreams and articulation. Also, the use of this barrel on a plastic clarinet will give your student a huge sonic upgrade.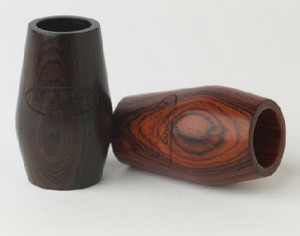 Fatboy in cocobolo or grenadilla. Accepts airstream without resistance for unlimited flexibility. No body rings. The larger outer diameter helps stabilize pitch while focusing tone for greater projection. Fits Buffet, Leblanc, Selmer or Yamaha Bb and A clarinets. Although we stock 65 and 66mm barrels, we can make a special order for your size.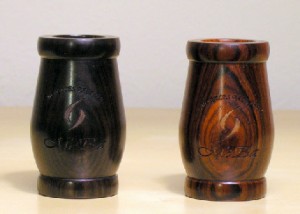 MoBa in cocobolo or grenadilla. Well-suited for a variety of applications and ideal for orchestral work. Fits Buffet, Leblanc, Selmer or Yamaha Bb and A clarinets. This barrel has greater resistance with a large focused core sound. Backun provides a wide selection of lengths. Although we stock 65 and 66mm barrels, we can make a special order for your size.
Please note that we can special order other lengths or other models of barrels and other clarinet accessories as seen on http://backunmusical.com.
Mouthpieces and Barrels by Clark Fobes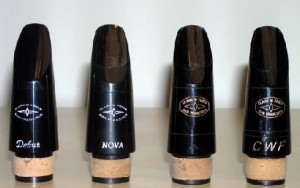 Debut Mouthpiece In hand finished acrylic. The finest student model clarinet mouthpiece. Faced with Fobes professional "CF+" facing. It makes any beginning students' lives easier.
Nova Mouthpiece In professionally finished hard rubber. Chedeville style baffle and bore with a CF+ facing. Excellent response and intonation.
San Francisco Mouthpiece Utilizing the Zinner blanks which are especially customized for this model. Produces superior intonation and a characteristic "Fobes" ring.
CWF mouthpiece Utilizing the popular Zinner "A" blank. Fobes' most recent model. The close, asymmetrical facing provides excellent response and control without loss of projection or power and creates a warm yet vibrant sound reminiscent of the Chicago Kaspar mouthpiece.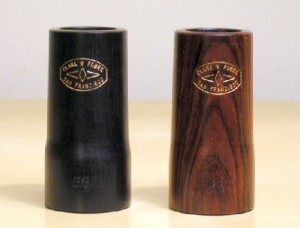 Bb & A Barrel for Buffet, Yamaha, Leblanc and older Selmer clarinets (pre Signature). Gives a lot of improvement on overall playability.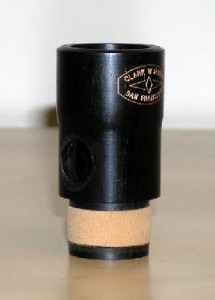 Eb Clarinet Extension adding a properly sized and positioned tone hole to produce the E/B twelfth. This makes the long B natural less resistant and closer in timbre to the throat tones. Also reduces the oversized twelfth interval.
Please note that we can special order barrels of other lengths and other clarinet accessories as seen on http://www.clarkwfobes.com
ReedGeek
The ReedGeek " Universal " Tool is designed to help all woodwind players (both students and professionals), adjust single and double reeds to achieve better reed performance more simply and accurately than any other reed tool on the market today. With its' compact, portable design and no sharpening required, the ReedGeek has quickly become an industry leader! This tool is used by the world's top woodwind professionals such as David Sanborn, Eddie Daniels, Ricardo Morales, Bob Mintzer, Greg Osby, Tower of Power etc. How to use it? Visit www.reedgeek.com/instructions/ for instructions.
Fox Double Reed Accessories
available on request
We also carry small accessories such as swabs for clarinet, bassoon, oboe, cleaning rods for flute and recorder, cork grease, bore oil, clarinet thumb rest cushions, clarinet mouthpiece patches.
We stock a small number of professional quality Pro Tech cases for flute and clarinet, and student model plastic shelled cases for flute and clarinet. Cases for other instruments, case covers by Cavallaro/Colorado Case Company and case covers and gig bags by Altieri are available by order.
Takeyama Recorders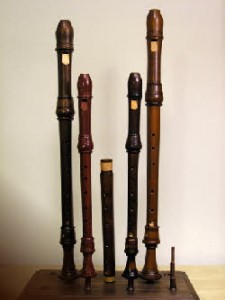 We formed a warm alliance with Hiroyuki Takeyama whom we met about 15 years ago at the Boston Early Music Festival & Exhibition, where we were exhibiting our respective instruments. We find his recorders to be of high quality workmanship with superior playing characteristics.
Takeyama Recorders are popular throughout Japan and Europe among professionals and beginners who wish to play wooden recorders. We are proud to carry Takeyama recorders which you can find at fine establishments such as The Early Music Shop in the UK, Margret Loebner and Stephan Blezinger in Germany and other music shops in Europe besides Japan.
Takeyama Woodwinds started manufacturing wooden recorders in the 1960s. Since then, Takeyama has been developing and producing wooden recorders from sopranino to great bass. At the same time, Takeyama developed and is manufacturing Shakuhachi and other traditional Japanese woodwind instruments.
In the 80s, Takeyama started the production of a model after Bressan, then Takeyama's original and standard models, both based on various existing originals. Also, Takeyama has collaborated in development of instruments for people with hand problems.
Please inquire as to models and stock available.